Recent Shed Projects That Inspire
5 October 2023
The Top Sheds of the Season: Recent Favourites Worth Admiring
Hey there, shed enthusiasts! We've been buzzing with excitement as our teams across Australia have been hard at work bringing your dream sheds to life. From charming garages to practical farm sheds, and even the cosy havens of man caves and she sheds, we've got a fantastic lineup of projects to share with you. So, grab a cup of coffee, settle in, and let's dive into the world of Totalspan sheds!
Yes! At Totalspan, we pride ourselves on offering something truly exceptional: the power of customisation. While some shed companies might limit your options to a few tweaks here and there, we say, "If you can dream it, we can build it!" Our customisation options go beyond altering dimensions and colours. We're here to turn your wildest shed dreams into reality through our own custom design team.
Recently, our Totalspan Sunshine Coast and Totalspan Northern Rivers teams have been hard at work crafting some remarkable custom sheds for our customers.
The customer took the reins on this shed and organised their own windows, which are yet to be installed. Now, that's what we call a hands-on project!
Carports vs Garages: The Battle of Practicality
Wondering whether to go for a carport or a garage? It's a common dilemma, and we've got some insight to help you decide. The primary reason to opt for a carport is its cost-effectiveness. If you want to dive deeper into this topic, we have a whole article dedicated to carports that will unravel the mystery further!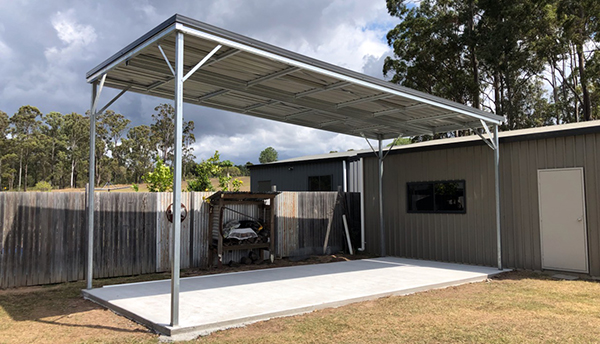 Caravan Covers: Your RV's Best Friend
Caravan owners, listen up! If you're not already sold on the idea of a caravan cover, here are a couple of reasons why you should be...
1. Protection from the Elements: Say goodbye to worries about rain, hail, wind, and those pesky UV rays. A caravan cover provides the ultimate shelter for your precious home on wheels.
2. Extended Caravan Lifespan: By shielding your caravan from the elements, you're also preventing rust, corrosion, and sun damage. That means more adventures on the road for you!
Our Totalspan Toowoomba team worked closely with their customer to build a Caravan Shelter to perfectly fit their RV.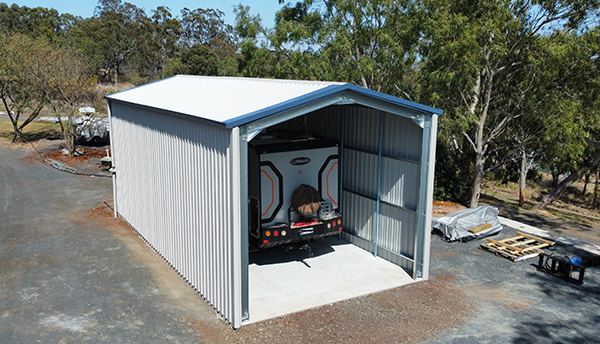 Man Caves and She Sheds: Your Personal Oasis
Need a sanctuary outside the home that's just for you? Man Caves and She-Sheds are the answer! Whether you dream of a games room, an art studio, a workshop, a work space, a sports shed, or even a home bar, the possibilities are endless. Our talented team can work with you to create the perfect escape for your needs.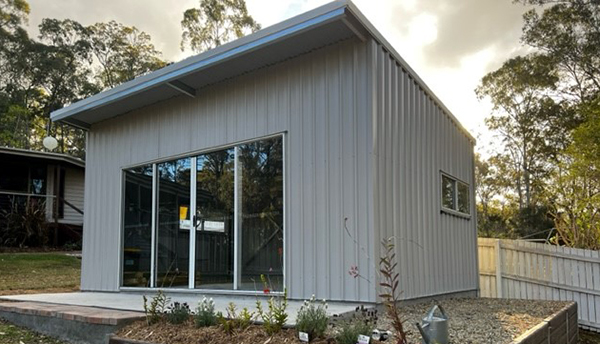 Customisable Features: Adding a Touch of Wow
Let's talk about adding that extra "wow" factor to your shed. Take a cue from our ingenious customers who incorporated wooden framing and the other wooden decking into their space. It adds a touch of warmth and natural beauty, creating a visually appealing contrast that elevates the shed's overall aesthetic charm.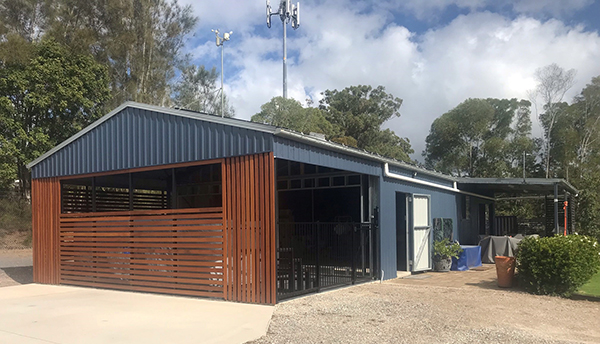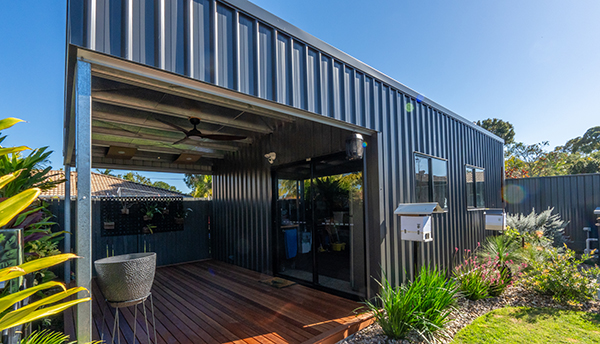 And speaking of smart investments, why not consider harnessing the power of the sun with solar panels? Installing solar panels on your shed is a fantastic way to reduce electricity expenses while promoting sustainable energy use. It's a win-win for your wallet and the environment!
The Trusty Garage: Every Home's Best Friend
No home is complete without a garage. It's the secure haven where you store your bikes, gardening tools, lawn mowers, and a myriad of other essentials. At Totalspan, we understand the importance of this space in your daily life, and we're here to help you design the perfect garage that suits your needs.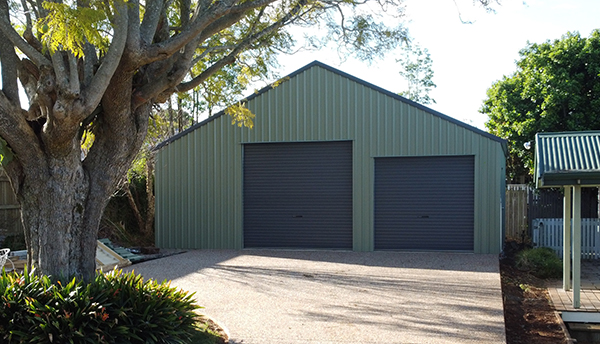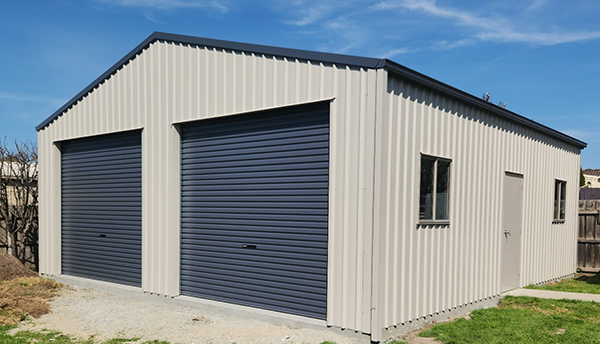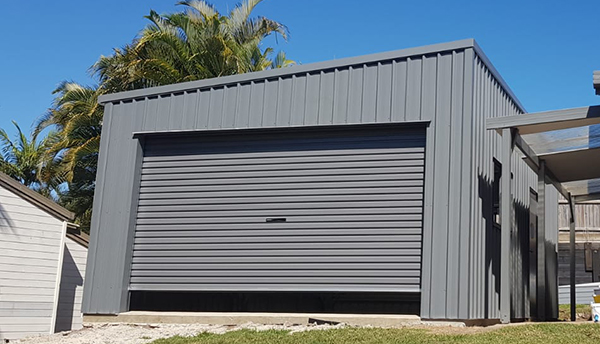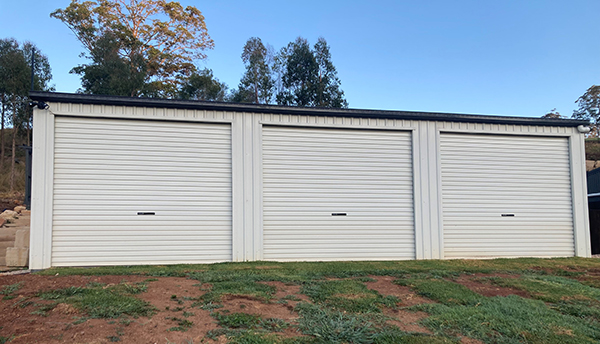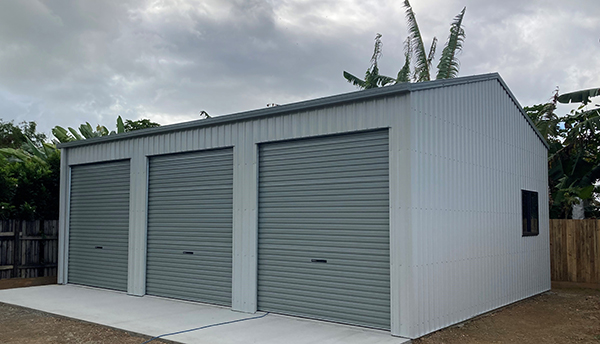 Farm Sheds: The Heart of Rural Life
Last but not least, we want to emphasise the value of farm sheds. They are the backbone of rural life, serving as storage spaces for tools, equipment, and sometimes even a cosy corner for a cup of tea during a hard day's work. For more insights on farm sheds, check out our article on "The Value of Farm Sheds."
So, there you have it! Totalspan's world of custom sheds, carports, caravan covers, and more awaits your imagination. These projects are not only #shedinspo but also a testament to the limitless possibilities our teams can bring to life. Whether it's a functional garage, a dreamy man cave, or a robust farm shed, we've got you covered.
Ready to embark on your shed journey? Reach out to Totalspan, and let's turn your shed dreams into a reality that's as unique as you are! Fill in an online contact us form or call the team today on 1300 15 15 25. Who can? Totalspan!