The Magic of Man Caves and She Sheds
6 November 2023
Man Caves and She Sheds
When you hear the word "shed," you might picture a dingy, cobweb-covered space where tools go to rust. But hold on to your hammers, because there's a shedvolution happening! Man Caves, Man Sheds, or affectionately known as She Sheds are rewriting the shed-story, transforming your garden storage space into a whimsical wonderland. These sheds aren't just a storage solution; they're a secret weapon for turning your backyard into a personal paradise. Let's dive into the enchanted world of these magical retreats!
The Versatile Oasis
Let's clear the air here: a "Man Shed" isn't just for the guys. It's a haven for anyone who craves their personal spot to escape the everyday grind. We're talking about She Sheds, outdoor retreats, hobby havens, and of course, the famous Man Caves. Here's why these enchanted sheds are a must-have for all households:
1. A Place for Hobbies and Interests
Think of a Man Cave as a blank canvas, a sacred space where your wildest passions can come to life. Whether you're a master woodworker, a green-thumbed gardener, a DIY magician, or someone who simply wants a cosy corner to get lost in a book, your Man Cave is your ticket to paradise. The possibilities are as limitless as your imagination.
Resource: 10 Creative Ways to Use your Man Cave or She Shed
2. Stress Relief and Relaxation
In today's whirlwind world, stress is a constant companion. The answer? Your very own shed-nasium! It's the perfect spot to kick back, meditate, or just bask in the serenity of solitude. Imagine comfy seating, your favourite décor, and perhaps a tiny library—the perfect recipe for crafting your sanctuary of serenity.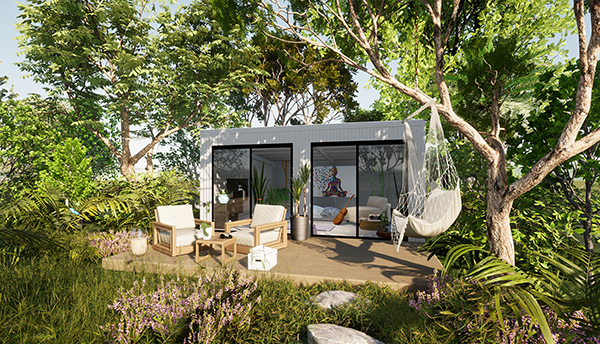 3. Work from Home (Away from Home)
With the remote work revolution, many of us find ourselves toiling away from home sweet home. But juggling work and relaxation in the same space can be a challenge. Enter the Man Cave / She Shed —a remote, distraction-free office that lets you conquer your tasks without the constant hum of home life. Work has never been this fun!
4. Bonding and Socialising
Man Cave Sheds aren't just for solo acts; they're the ultimate stage for group fun. Game night, movie marathons, or the place where family projects come to life—your shed can be the heartbeat of social gatherings. Why not turn it into a game room or a home bar? The possibilities for bonding are boundless.
5. Decluttering Your Home
One of the magical powers of a Man Cave is its ability to declutter your living space. Tools, seasonal items, and hobby gear finally get a home of their own. Say goodbye to stumbling over tools in the garage or playing hide-and-seek with your gardening equipment.
6. Boosting Property Value
Believe it or not, a well-designed Man Cave can boost your property's charm and value. Potential buyers see it as an enticing bonus—an extra space with endless potential. It's like real estate alchemy that transforms your garden into gold!
Can I Customise My Shed?
Totalspan isn't just about sheds; it's about crafting your dreams. You can tailor your shed to your unique needs and style. Add electricity for cosy lighting, heating, and powering your projects. Install shelves, workbenches, and storage solutions. Your shed is an extension of your home and your personality, so make it uniquely yours.
Join the Man Cave / She Shed revolution and experience a world of possibilities you never imagined. Connect with your local Totalspan team today at 1300 15 15 25 and get a quote that's as irresistible as your shed dreams. Get ready to unlock the magic of your very own enchanted shed-venture!
Who can? Totalspan!