Everything You Need to Know About Garages
9 August 2023
Your Comprehensive Guide to Creating Functional and Stylish Garages
Are the elements taking a toll on your car or are your tools constantly playing hide and seek? It's time to level up your property game and invest in a garage that's not only functional but also a statement of your personal style. Welcome to your ultimate guide to garages – where we dive into the world of automotive abodes, storage sanctuaries, and man caves that will make your neighbours green with envy!
Let's start with the basics: What are the standard garage sizes?
The standard single garages measure around 6L x 4W.
Double Garage standard size:
The standard double garages measures around 6L x 6W.
Triple Garage standard size:
A triple garage measures around 6L x 9W to ensure it can fit three vehicles.
Now you know the typical dimensions, it is now time to explore the other factors influencing a garage's design and features.
What are some key considerations when designing a functional garage?
1. Defining Your Purpose: Beyond Four Walls
Picture this: a sanctuary for your prized car, a creative workshop, a storage haven, or perhaps even a secret getaway. Your garage's purpose sets the tone for its design and layout. Are you a car enthusiast looking to create the ultimate auto haven? Maybe you're an aspiring artist or woodworker seeking a creative space. Or perhaps you're just tired of the clutter and yearn for an organised oasis.
2. Size Matters
Garages come in all shapes and sizes, from compact carports to sprawling mega-garages. Consider not just your immediate needs, but also your future ambitions. Do you plan to acquire more vehicles or expand your hobby? Think about storage solutions, workspaces, and how much space you need to comfortably manoeuvre within. How tall is your caravan? What's the length of your boat trailer? Let us in on the dimensions, so we can cook up a garage that's a perfect fit for your prized rides!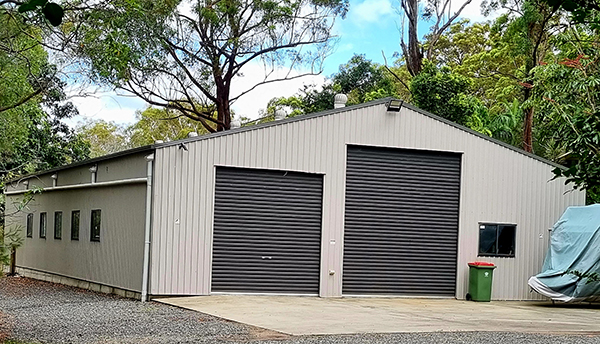 3. Style and Aesthetics
Gone are the days of a plain, concrete box hiding in the corner of your yard. Today, garages can be a seamless extension of your home's design. Match your garage's facade with your home's architectural style or go bold with contrasting colours and sliding doors. After all, your garage is a canvas waiting for your personal touch.
4. Designing for Functionality
The layout of your garage can greatly affect its usability. Consider zones for different activities – a workshop area with sturdy workbenches and tool storage, a car maintenance corner equipped with all the necessary gear, and a storage zone with clever shelving solutions. Don't forget to incorporate proper lighting, ventilation, and insulation to ensure a comfortable environment year-round.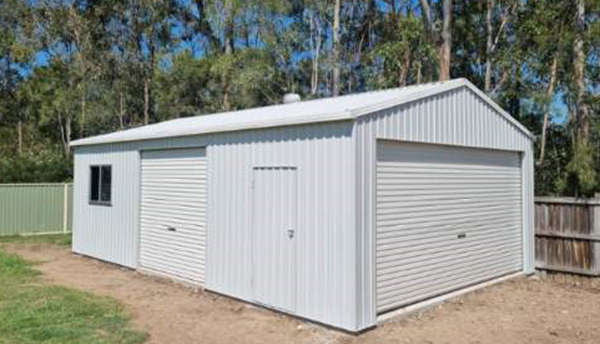 5. The Man-Cave/She-Shed Phenomenon
Who says a garage is just for vehicles? It's time to break the stereotype and create your very own man cave. Install a big screen TV, a mini-fridge stocked with your favourite beverages, a comfy couch for game days, and even a dartboard or pool table for added flair. Make it the ultimate hangout spot where you can unwind and let loose.
Helpful resource: 10 Creative Ways to Use your Shed Article.
6. Budgeting Wisely
Creating your dream garage doesn't have to break the bank. Start by setting a realistic budget that takes into account construction costs, materials, and any additional features you'd like to include. Prioritise your needs and splurge on elements that will truly enhance your garage experience.
7. What council approvals and regulations should I be aware of when building a garage?
Before you embark on your garage-building adventure, make sure you're well-versed in local council regulations. Ignoring these important factors can lead to costly delays and frustrations down the road. No need to fret, your local Totalspan team are your best resource to help you with this process!
How can I get a quote or more information about designing and building a custom garage?
Interested in a quote or more information? Contact your local Totalspan team today on 1300 15 15 25 or fill in an online quote request.
Who can? Totalspan!