Building with Totalspan
18 January 2023
Building with Totalspan
From concept to completion - we do it all!
Read through our step by step guide when you build with Totalspan.
3. PREPARING YOUR SITE AND CONCRETE SLAB
Our contractors will be on site for one to two days (depending on the size of the build) to prepare the foundations and pour the concrete slab.
4. CONSTRUCTION OF YOUR TOTALSPAN BUILDING
The kit is unpacked and a quality check is completed.
We can offer the full installation if you have a local Totalspan team in your area.
DIY? Take a look at our DIY article for more information. We advise you use licensed contractors to assist you in your project.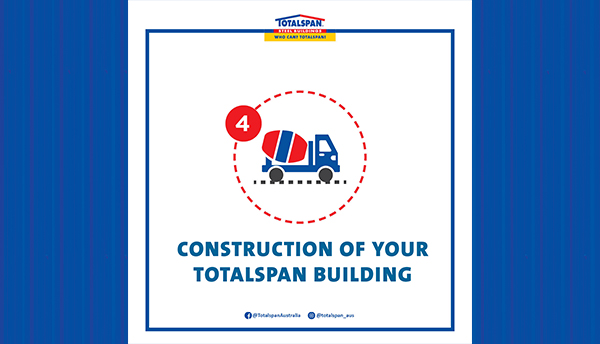 5. FIT-OUTS
If you have plumbing and electrical included in your project, then we can work with certified plumbers and electricians to carry out the work required during construction. *Participating outlets only.
6. COMPLETION AND SIGN-OFF
Before we leave your site we'll carry out a Quality Insurance inspection to ensure everything has been completed.
All that's left is for you to enjoy your new Totalspan building!
Contact your local Shed Specialist today on 1300 15 15 25 or fill in a contact us form online.
Who can? Totalspan!