Transforming Backyard Storage
Revolutionising Backyard Storage
At Totalspan, we pride ourselves on creating custom sheds that perfectly suit our customers' needs. One such project stands out as an excellent example of how a standard storage shed can be transformed into a versatile poolside changing room and storage area.
The customer wanted a shed that could serve as a storage solution while also doubling up as a changing room for the pool area.
Collaborative Process:
Throughout the project, Totalspan Strathpine closely collaborated with their customer to ensure their vision became a reality. The journey began with an initial inquiry, during which the teams skilled sales staff engaged in detailed discussions about the customers' requirements.
Totalspan Strathpine worked closely with them to design a shed that struck the perfect balance between cost-effectiveness and their desired features. Several design iterations were undertaken, ensuring that every element aligned with their needs. The shed measures 9L x 5W x 3H with a 3m cover. The colour chosen was Monolith, which is a deep charcoal grey. The striking juxtaposition of the deep-toned shed against the vibrant greenery of the surrounding plants truly sets this backyard apart.
Were there any Unique Features or Challenges with this project?
This shed presented a couple of unique features and customisation requests. The customer installed a beautiful timber deck, adding an extra layer of comfort and style.
The planning, design, and construction phases proceeded without any significant challenges. One notable aspect was the placement of the shed at the back of the property, requiring the team to assemble an entire wall on-site and then lift it into position close to the back boundary.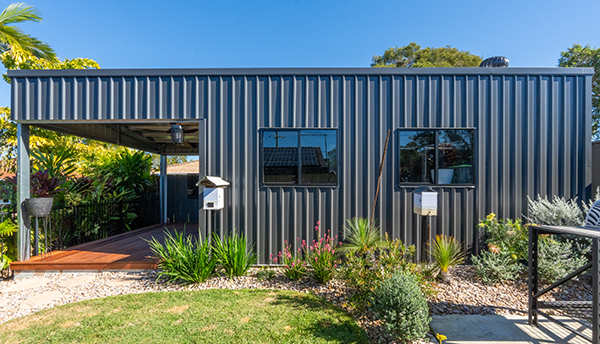 Efficiency in Execution:
Thanks to the meticulous planning and collaboration, the entire build was completed within a short span of five days.
Totalspan Strathpine's customer is thrilled with the shed's practical layout, Skillion roof design, and the careful attention to detail throughout.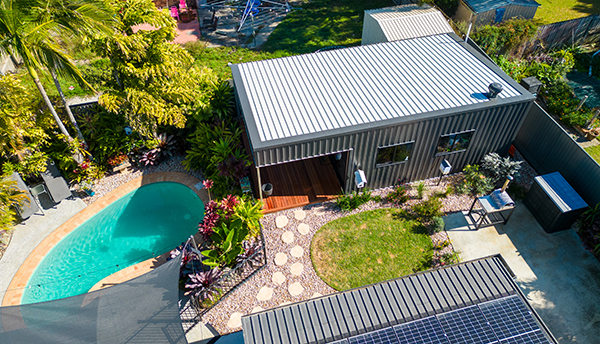 Aesthetic Enhancements:
Beyond the shed itself, the customers landscaping efforts played a pivotal role in enhancing the overall appeal of the space. The combination of the shed's design, the timber deck, and the surrounding landscaping creates a picturesque oasis that complements both the customers lifestyle and the beauty of their property.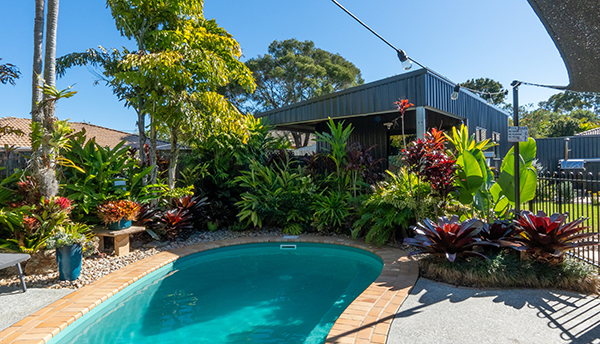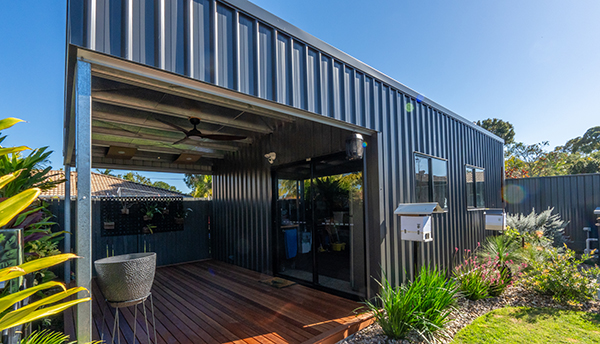 Totalspan Strathpine take immense pride in every project they undertake. This backyard project is a testament to the team's commitment to understanding their customers' needs, collaborating closely, and delivering exceptional results. Whether it's a standard storage shed or a unique customised structure, our team are here to turn your vision into a reality. Contact us today to embark on your shed transformation journey!
Interested in a quote or more information? Contact your local Totalspan team today on 1300 15 15 25 or fill in an online contact us form here.
Who can? Totalspan!