Dreams Do Come True: The Unexpected Garage Win That Changed a Family's Life
Read about the winner of our February 2023 'Win Back the Value of Your Shed' prize.
Nicolas Green and his wife Jess were the lucky winners of our 'Win Back the Value of Your Shed' promotion in February 2023. They are the proud parents of two young children, Hudson and Harvey. Stuart from Totalspan Warragul said the prize couldn't have gone to a nicer, hard-working family.
We spoke to Nicolas and he said "I'm a pretty reserved guy, the most I've ever really won is the odd raffle prize for kindergarten. So, when I found out I was pretty excited. Jess ended up calling Stuart back and she was over the moon excited. It took a good few days to sink in but you couldn't get the grin off my face for a while."
What is the shed being used for?
Nicolas and his wife Jess have almost finished building their dream home which has been a plan of theirs for 10 years. A shed was always part of this plan and will be used to house their caravan as well as a little hobbyist woodworking workshop.
How was the design process?
Was very easy as Nicolas and Jess knew exactly what they wanted. "We always knew we wanted to go a neutral tone to suit our Hampton style ranch home. Totalspan had a colour display at their office, so I took home some samples and Jess and I decided on which grey we wanted." The shed measures 12L x 8W x 4H and the colour chosen is Gull Grey.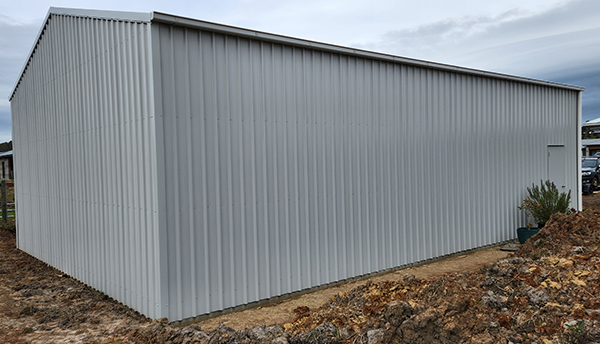 What does winning this prize mean to you and your family?
"It's amazing, with cost-of-living pressures adding to our expenses, timed with constructions costs skyrocketing it's really helped up bring forward some work we had scheduled for further down the track. We will be able to add solar to our home that we were holding off completing due to cost increases."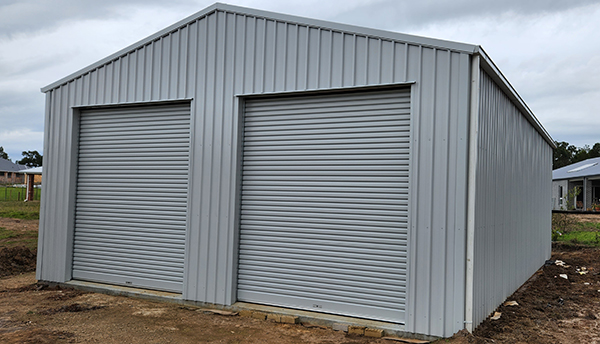 How was your experience working with the Totalspan Warragul team?
"We chose Totalspan as they have a great reputation in the local area. They offer a turnkey solution which appealed to us as we didn't want to have to manage building permits etc as we already had our hands full building our home while also keeping on top of the kids at home."
Interested in your own caravan storage or workshop?
Whether you're embarking on a nautical adventure or exploring the wilderness, make sure your boats and caravans are shielded from the forces of nature. Totalspan specialise in crafting customised shelters for boats and caravans, tailored to your specific dimensions, providing all-season protection. Moreover, our versatile designs offer the opportunity to construct a steel cover that seamlessly blends with your property. Whether you require a single, double, or multi-bay shelter or enclosure, we possess the expertise to assist you in designing a boat shelter or caravan carport that perfectly suits your needs.
Interested in a quote or more information? Contact your local Totalspan team today on 1300 15 15 25 or fill in an online contact us form here.
Who can? Totalspan!